Ashley Nicole Tomlinson
Saving her community by saving herself.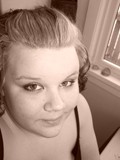 When Ashley Nicole Tomlinson walked into Odyssey Youth Center two years ago, few would have guessed that the outspoken, mohawked teen standing before them would soon be inspiring them all.
A native of Spokane, WA, by the age of 14, Ashley's life was showing the effects of a difficult domestic environment that had left her profoundly unmotivated. "Ashley wasn't getting encouraged to go to school, wasn't getting encouraged to do well, to get out of trouble," says Ramon Alvarez, Executive Director of Odyssey Youth Center, a Ms. Foundation grantee. "A lot of the trouble she was getting into was facilitated by her home situation."
Like most of the youth who find their way to Odyssey, Ashley was in need of safety and support; she was looking for a community of peers and adults who could help her express her true self without fear of harassment. In Odyssey, she found just that. The only all inclusive lesbian, gay, bisexual, transgender, questioning, and straight-allied youth center in the Spokane area, Odyssey's mission is to provide a safe place for youth to connect with their peers, while also offering education and advocacy training that promote positive growth and self empowerment.
Last year, with only two paid staff members, the center served nearly 3,500 youth between the ages of 14-21, 75% of whom identify as LGBTQ, and 30% of whom are people of color. "Spokane is a very conservative, regressive, and not at all progressive community," Alvarez says. "We know that we're seeing kids who come here just because they are not judged. Nobody stares at them here."
By providing access to a safe and supportive community with a decidedly activist bent, Odyssey aims to empower youth and encourage their participation in the political process by teaching them how to advocate for their rights. In Ashley's case, it was a "Lobby Day" trip to the state capitol that moved her to become an active participant in her community and, most important, in her own life.
The day, which was spent lobbying state representatives on behalf of comprehensive sexuality education, allowed Ashley to experience, firsthand, her own power to change the world around her. And showing maturity well beyond her years, she decided to begin by changing herself first. "After that day, Ashley looked at her home situation and decided it wasn't a healthy environment," says Alvarez. "So she found somebody in her life—an ex-stepfather—and went to him and said, 'I want to get my life together. Can I come live with you?' And he took her in."
It's been a little over a year since Ashley claimed her power, and the changes in her life have been dramatic. She has returned to school and is now getting straight A's; she plans to attend The Evergreen State College when she graduates and dreams of becoming a state legislator herself one day. At Odyssey, too, she's proven her new outlook on life. "Ashley has stepped up at the center in terms of leading the youth and helping and doing a lot of peer meeting with the other youth here," Alvarez reports. As a result, Ashley was recently awarded a paid internship to serve as the leader of "Odyssey Out Loud"—the organization's activist grassroots training program.
Though Ashley credits Odyssey with bringing about her new, goal-oriented mentality, Alvarez says the credit is all hers: "All we have done is give her a shoulder to cry on and a place to come and talk things out," he says. "The rest – she really has done it. It's amazing to see somebody that young look at her situation and say, 'This isn't what I want anymore—so how do I go about changing it?'"
For her personal courage in the face of tremendous challenges and for reminding us that changing our communities begins with changing ourselves, The Ms. Foundation for Women is honored to present Ashley Nicole Tomlinson with the Marie C. Wilson Young Woman's Leadership Award.
Go back to The Honorees.