Vanessa Johnson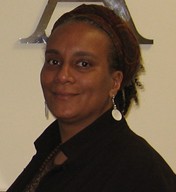 Vanessa Johnson knows firsthand the power of one woman reaching out to lift up the voice of another. She knows because it is the story of her own birth as an activist.
In the early 1990s, Vanessa Johnson was angled squarely towards success: she had just graduated from a prestigious law school and secured a highly coveted clerkship with a federal court judge. Then she received a shocking diagnosis: she was HIV-positive. Feeling her life unraveling beneath her, Johnson turned to drugs for comfort. "I lost my way," she says now. "I let the drugs overtake me. I didn't mind because I figured I was going to die anyway."
But something in Johnson wouldn't let her quit, and once in recovery, she found a friendship with the program director's wife that would change her life. "This woman sat on an AIDS clinical trial group and asked me if I wanted to get involved, because they didn't have any representation of black people, nor black women," Johnson remembers. "I said, 'Sure, why not?' I can learn about the trial. I can learn about the drugs. I can meet more people. And that's what started giving me the confidence to finally look at what I was dealing with."
That confidence has served Vanessa Johnson well in the years since she was first encouraged her to reclaim control of her own destiny. In fact it has helped make her one of the most influential and innovative voices in HIV advocacy in the United States today. As one of the founders of the Capital District African American Coalition on AIDS (CDAACA), Johnson was a pioneer in the movement to identify and serve the specific needs of HIV infected people of color in her hometown area—a group whose voices often got lost in the rush for funding and services.
In her role as CDAACA's Deputy Director, Johnson soon found herself seated at important decision-making tables as HIV/AIDS policy was hammered out. But she couldn't help noticing that she was always one of the few women included in the process. "I would meet HIV-positive women in support groups or social situations but never around the table where decision makers were talking about what they were going to do for us," Johnson recalls. "Women just weren't at the table."
So she made it her business to bring them to that table. With support from the Ms. Foundation, Johnson created a program called "Catch a Rising Star," which trains HIV-positive women to develop and share their personal stories of HIV—not just with each other, but also with policymakers. "I started 'Catch a Rising Star' because I thought, if women could be at the table and have their stories told, maybe they could get their needs met," Johnson says now. In its two years of operation, the program has already trained more than 30 HIV-positive women to be effective advocates in their communities and in the policy making arena.
Though Johnson left CDAACA last spring to become Deputy Executive Director of the National Association of People with AIDS, the work of lifting up the voices of women with HIV/AIDS remains central to all she does. Johnson now serves as the leader of the National Women and AIDS Collective, an alliance of Ms. Foundation grantees that aims to impact HIV/AIDS policy at the national level. And alongside her early mentor, Johnson credits the Ms. Foundation for helping her realize what a powerful effect women working in coalition can have on the world around them.
"The Ms. Foundation has profoundly changed me—not just on a professional level, but on a personal level, as well," Johnson says. "It's where my education about being a woman really began. The Ms. Foundation helped me see the possibilities."
Go back to The Honorees