Pam Grier, 19th Annual Gloria Awards Presenter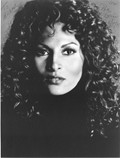 PAM GRIER is currently appearing on the Showtime hit series THE L WORD. Grier began her acting career and achieved fame in the early 1970's when she starred in a series of films, including "Coffy," "Foxy Brown," and "Sheba Baby."
In the 1990's, she made an impact as the title character in Quentin Tarantino's "Jackie Brown" and was honored with Golden Globe(r), Screen Actors Guild, and NAACP nominations for her performance. Grier's feature film credits include "Holy Smoke," "In Too Deep," "Snow Days," and, recently, the animated feature "Scooby Doo III: The Curse of Cleopatra," where she was the voice of Cleopatra, and "Back in the Day" starring Ving Rhames, Joe Morton, and Ja Rule.
On television Grier was nominated for a daytime Emmy(r) Award for her work in "Happily Ever After: Fairy Tales For Every Child" and has also appeared in the mini-series "1st To Die" and SHOWTIME's "Feast Of All Saints."
Back to Images and Bios.